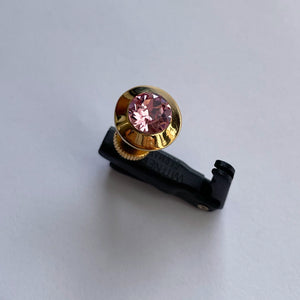 Solitaire Fine Tuner for 1/4 size Violin Light Rose
Regular price $99.00 Sale
The Solitaire Collection is inspired by the classic and timeless design of single stoned diamond jewelry, featuring clean fluid lines and one large Swarovski Crystal. The base is made of Brass, plated with 14k gold or Rhodium and is soldered to a Wittner Hill-style ball end fine tuner for 1/4 size Violin.
Kids can now enjoy the same best selling design while learning making it a fun addition to the Violin playing experience.

Available in 14k yellow gold plated (YELLOW GOLD TONE)

Fits 1/4 size Violins

Swarovski Stone Color: Light Rose

Dimensions:
10mm diameter x 7mm height

Stone size 6mm
*Please allow 2 weeks as it is not a regularly stocked item.